Patents are tedious and complicated legal documents that protect crucial pieces of intellectual property. When something as revolutionary and widely applicable as blockchain comes along, everyone races to patent it. Today, some of the biggest financial services companies worldwide are working hard on blockchain patents. From Bank of America to Coinbase, these blockchain patent owners are changing—and controlling—the future of distributed ledger technology.
The Rush to Patent Blockchain
Blockchain has the ability to safely store unalterable data that can be accessed instantaneously anywhere in the world. This can benefit everyone from a stock exchange to a diamond mine. As our understanding of blockchain's potential grows every day, so does business' incentive to research, apply, and control it.
In 2017 alone, American companies filed 190 blockchain patents according to Startup Genome, a startup research organization. Arnobio Morelix, Director of Research for Startup Genome, wrote to Blocklr, "Our estimates indicate that for the period between 2015 and 2017, the rate of cryptocurrency and blockchain patent filings grew at a CAGR [Compound Annual Growth Rate] of just over 200 percent."
There are two main types of blockchain patents: cryptocurrency and blockchain specific. The latter is generally patented by larger companies. At present, startups and individual people own more cryptocurrency-related blockchain patents, according to Maulin Shah, an attorney for intellectual property firm, Envision IP.
Overall, the vast majority of the world's blockchain patents come from China. China filed approximately 600 blockchain patents in 2017. "It's hard to say exactly how many cryptocurrency patents were filed by China due to issues in data transparency," Morelix added.
Who's Filing the Most Blockchain Patents?
No one is as invested in blockchain patents as the financial services industry. According to Envision IP, five companies hold 124 of the blockchain patents filed in the United States. The three biggest blockchain patent holders—Bank of America, Mastercard, and Fidelity—are all in financial services.
Initially, it may seem strange that data collecting leviathans like Google and Facebook haven't taken over blockchain. Though these companies have quietly invested in it, blockchain offers banks, credit card companies, and mutual funds a more immediate edge over the competition.
"Blockchain technology is ideal for database, transactional, and record keeping functions, all of which are paramount to the banking industry," explained Maulin Shah. "Think about the vast amounts of data that is stored with each credit card purchase, stock trade, real estate transaction, etc."
Even more serious is the threat that blockchain technology poses to financial services companies. Since blockchain is decentralized, you don't need a bank or credit card to process a cryptocurrency transaction. This means that third parties that profit from payment fees, ie. banks and credit card companies, could become obsolete.
In other words, the incentive to patent crucial blockchain tech—and charge competitors a fee for using it—couldn't be greater.
7. Nasdaq
Nasdaq is the only stock exchange amongst the world's blockchain patent owners. With a market cap of $6.8 trillion, Nasdaq, the world's second-biggest stock exchange, is one of the most important blockchain adopters on our list. Additionally, Goldman Sachs is working on crypto securities.
Back in 2016, Nasdaq filed a patent for a blockchain exchange system. And more recently, they filed a patent for a data matching system using blockchain. This technology would combine different sets of records and prevent inconsistencies.
Nasdaq has applied this tech to create Linq, a blockchain cloud platform on which investors can trade securities. Linq combines Citi Group's financial network with Nasdaq's exchange, all under the umbrella of Chain, a cloud-based blockchain company.
Furthermore, the Financial Technology Forum named Johan Toll, Nasdaq's head of Blockchain Product Management, Fintech Person of the Year due to his blockchain innovation.
Nasdaq's blockchain technologists did not wish to comment on their blockchain intellectual property.
6. Qualcomm
On paper, Qualcomm is a mobile tech company. But, some have described them as "patent trolls." These are entities that file patents with the sole intention of licensing them out to other companies and collecting royalty fees. Apple is currently suing Qualcomm for demanding a percentage of all iPhone sales.
According to PateSnap, a research firm that quantifies intellectual property, Qualcomm currently has over 46,000 patents and has filed over 100,000 applications. As most of these are in the digital information transmission area, their control over blockchain intellectual property is growing.
Qualcomm did not wish to comment on their blockchain patents.
5. Coinbase
Coinbase, a leading digital currency exchange, is also one of the leading blockchain patent owners.
Despite having the most patents of any digital currency exchange, Coinbase has a complicated relationship to patenting. For one, they've signed the Patent Pledge. This is a vow not to use patents against companies with fewer than 25 employees.
Furthermore, CEO Brian Armstrong shared a lengthy justification for their decision to patent blockchain. "The bitcoin community was founded on ideals of openness and decentralization, so software patents feel especially bad in our industry," Armstrong explains. He does, however, stress that obtaining patents is crucial to building a tech business.
He added that Coinbase wants to protect itself against patent trolls. They claim to already have struggled with one patent troll, who could be one of the patent owners on this list.
4. Fidelity Investments
Fidelity Investments is another financial services giant actively working to become a leader amongst blockchain patent owners with the third most blockchain patents. Today, this corporation manages $6.9 trillion in customer assets according to their own calculations. This ranks them fourth in the world in terms of capital under management.
Fidelity has their own blockchain incubator and recently announced a partnership with Coinbase. Through their View Balance plugin, you'll be able to see your digital wallet, meaning your cryptocurrency investments, as part of your Fidelity investment profile.
3. Mastercard
Mastercard is heavily invested in developing blockchain technology. They currently offer two services: Blockchain Core API and Smart Contract API. The first allows businesses to process blockchain transactions through Mastercard's network. The second lets you write your own smart contracts.
Smart contracts are agreements that make finalizing a business transaction fast, cheap, and simple. As an alternative to paying for a lawyer, smart contracts allow you to commission a service with preset terms and pricing. They also come with forced adherence, meaning that if you do not receive the service for which you paid, you'll receive an automatic refund.
Additionally, Mastercard has developed technology to speed up cryptocurrency transactions. The time it takes for a cryptocurrency payment or conversion to go through can be minutes or longer. This time lapse is a major deterrent for businesses who are reluctant to accept cryptocurrency.
In July, Mastercard filed a patent on a way to process cryptocurrencies using the same framework that handles fiat, or government-backed money. They would also be able to speed up transactions by predetermining risk. This would largely come down to the payment processor collecting data on a user's previous transactions.
2. IBM
IBM, or International Business Machines Corporation, has been investing in blockchain for some time and is tied with Mastercard with the second most blockchain patents. In 2017, IBM contends that they filed 9,043 patents, including a new way to accept payments from an untrusted party using blockchain technology.
IBM's Blockchain Platform has over 400 clients, according to their own calculations. It uses Hyperledger Fabric and Hyperledger Composer—tools for building a business-specific blockchain. They've also built a blockchain application with the shipping giant Maersk to facilitate large-scale international shipping.
While developing their business-focused blockchain technology, IBM has also filed a record number of patents. Most recently, the US Patent and Trademark office accepted IBM's proposed system for managing a database with blockchain.
Their blockchain database would discover inconsistencies within existing databases, and protect information from potential manipulation. Companies ranging from the industrial to the educational could benefit from this technology, according to IBM's latest patent application.
1. Bank of America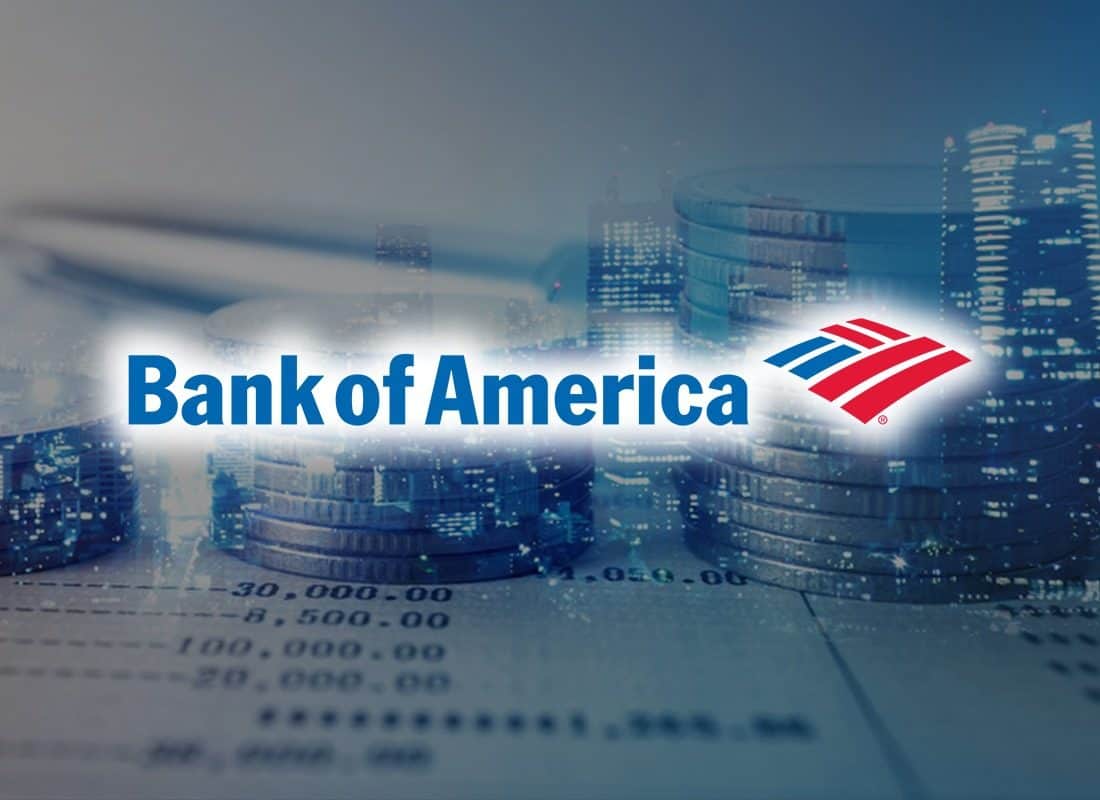 Silicon Valley-based tech giants weren't the biggest blockchain patent owners in 2017. Instead, Bank of America filed the most distributed ledger-related patents.
At 2018's Future of Fintech conference, Catherine Bessant, Chief Technology Officer at Bank of America, told the audience, "we've got just under 50 patents in the distributed ledger technology space [also known as blockchain]." Overall, Bank of America filed the 125th most patents in 2017.
This is all part of Bank of America's move to acquire intellectual property. The bank sees technology as their competitive edge in financial services. This is especially true for blockchain.
[tnm_video layout="mnmd-post-media-wide"]https://www.youtube.com/watch?v=eAhAAUBxWig[/tnm_video]
With this said, Bank of America's public praise of blockchain in no way extends to Bitcoin. In fact, the bank banned its users from buying Bitcoin earlier in 2018. Until they have their own cryptocurrency wallet and a way to charge customers fees, Bank of America will do its best to dissuade their customers from using crypto.
However, Bank of America is working hard to get in the cryptocurrency game. In late 2017, they filed a patent on a cryptocurrency transformation system. This virtual bank account would have three sub-accounts: one for USD, another for the currency you want to convert to cryptocurrency, and a third for the cryptocurrency that you want. The bank would operate the second two accounts of this system.
Despite ranking number one in American blockchain patents last year, Bank of America believes that its blockchain technology is still in its infancy. "Though we've not yet found large-scale execution opportunities for blockchain firm, we know that's coming," added Bessant.
The Top Blockchain Patent Owners
Today, blockchain patenting is more common than ever. In 2017, financial institutions like Bank of America, Mastercard, and Fidelity dominated blockchain patent filings. Tech companies like IBM and Coinbase also acquired significant intellectual property.
Though blockchain is the technology behind public cryptocurrencies, the rush to patent it suggests that it has wide applications for big business, too. For this reason, blockchain will be worth over $700 billion by 2021.